Introduction
Fractures of the scapula, or what is commonly known as the shoulder blade, most frequently occur in the body of the scapula itself. Other parts of the scapula that might sustain fractures include the glenoid neck, the glenoid fossa, the acromion process and the coracoid process.
Anatomy
The scapula is a triangular piece of thick bone, consisting of acromion, glenoid fossa, neck of the scapula (glenoid neck), coracoid process, spine of the scapula and body of the scapula. It rests on the chest wall and is well protected by layers of surrounding muscles. It is rarely broken under normal circumstances.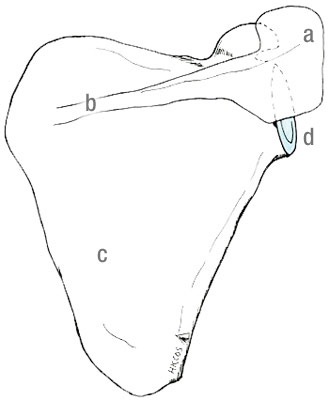 Cause
High-impact traumas, such as road traffic accidents or falls from significant height, can fracture the scapula. These traumas may cause other life-threatening injuries, such as head injuries, cardiothoracic injuries, spinal injuries and pelvic fractures. Associated fractures around the shoulder girdle, including clavicular fractures, rib fractures and proximal humerus fractures, are not uncommon.
Symptoms
Most of the patients with newly sustained scapular fractures complain of severe pain when attempting to raise the arm.
Symptoms of scapular fractures may include:
bruise and swelling around the back of the shoulder;
skin abrasions;
severe pain upon any attempt to move the arm.
Diagnosis
For patients who have sustained high-impact traumas, their orthopaedic surgeons will carefully look for any associated life-threatening injuries. They will examine the upper limbs to make sure that there is no major nerve or blood vessel damage. A radiological examination with plain X-rays is often performed to confirm the diagnosis, assess and classify the fractures. In some cases, surgeons may use other imaging techniques, such as computed tomography (CT scan) for better delineation and assessment of the fractures.
Non-surgical treatment
Depending on individual situations, an orthopaedic surgeon can give appropriate medical advice upon the treatment plan. In the initial stage, analgesics, such as acetaminophen or Non-Steroidal Anti-Inflammatory Drugs (NSAID), can help reduce pain associated with these fractures.
If the fracture involves the scapular body with minimal displacement, non-surgical treatment with a simple sling would be sufficient.
Surgical treatment
Certain types of scapular fractures may need further evaluation and surgical treatment:
fractures of the glenoid fossa, especially fractures associated with dislocation or subluxation of the humeral head;
fractures of the glenoid neck, especially fractures associated with significant angulation;
fractures of the acromion process, especially fractures with significant displacement, which may subsequently lead to "impingement syndrome"
In these cases, surgery in the form of reducing the displaced fragments (reduction) and using appropriate plates and screws to hold the bones together (internal fixation) may be performed.
Rehabilitation
Depending on the severity of injury, patients with minimally displaced scapular body fractures will be given range-of-motion exercises within the first week after the injury. The rehabilitation programme will be individualised by the orthopaedic surgeon, physiotherapist and occupational therapist based on the patient's conditions. Complete healing usually takes several months.
Prevention
Since this is a traumatic injury, no prevention measures are available.
Dr. YU, Kong-san